Power of Attorney
A power of attorney is a legal document that authorizes a person to act on behalf of another person to manage their private, business, medical, or financial affairs. It is an essential component of an estate plan and at BBA Law in Shelby Township, MI, we support our clients in developing and authorizing this document.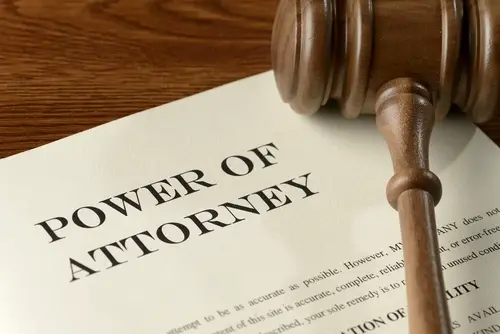 Types of Documents
Power of attorney delegates authorize to a specific agent to handle your affair. There are several types of this document and a detailed discussion with your estate lawyer will help determine which form you need to feel your wishes are well-represented and will be met should you become incapacitated.
Durable Power of Attorney: The election of a person to make financial-related decisions on your behalf. These decisions hold if you become incapacitated and is the point of the document – you've named someone you trust who can act when you cannot.
Non-Durable Power of Attorney: Not useful for estate planning, this type of POA can work for scenarios where, for example, a stockbroker is given permission to manage daily investments. The named agent's power to act ends should you become incapacitated.
General Power of Attorney: Allows one single trusted person to make decisions – legal, health, financial, and business. The activity is invalid should you become incapacitated and there are some matters where they are not authorized to make changes, like to your last will and testament.
Limited Power of Attorney: Also called a financial POA, this document names someone to represent you for a discreet financial transaction or certain subject matter, whether that's managing your real estate, paying bills, or managing retirement benefits.
Medical Power of Attorney: The election of a person to make medical decisions on your behalf if you cannot make decisions yourself. This is another type of limited POA and can refer to medication, surgery, medical treatments, end-of-life care, or the hospitals and doctors who administer your care.
Springing Power of Attorney: Becomes active under specific events, meaning it springs to life only when a particular condition is met. Until then, your agent has no legal authority and you have control over your own affairs. The definition of incapacitation can be fuzzy and often this type of POA is not included in estate planning.
When Power of Attorney Takes Effect
Completing a legally binding power of attorney form and having it notarized makes the document official. When the agent named in your paperwork can make decisions for you, though, will vary:
In a non-durable POA, decisions can be made immediately.
In a durable POA, decisions can be made immediately or when you are incapacitated.
In a springing POA, only incapacitation makes the document go into effect.
When a person dies, any POA they have is null and void.
Who Should Be Your Agent
Quite often, people choose a family member to act on their behalf when drafting a power of attorney, like a spouse or one or more children. This will be an important discussion with your loved ones and lawyer, especially when it comes to co-agents. Sometimes, naming a successor to the primary agent is an option worth pursuing because it ensures that someone is always available to act when the time comes without having to wait for a co-agent's presence or opinion.
The best choice of agent is always someone you trust. There will always be experts to offer advice, but no one can impart integrity into your agent.
Determine What Power of Attorney You Need
Whether you need to add estate planning documents to your file or create a situational power of attorney, the only way to ensure your wishes are honored is by having paperwork drawn up by an experienced, knowledgeable attorney. Contact BBA Law in Shelby Township, Michigan to schedule a consultation and develop the plans that will make you feel confident about the future, no matter what should happen.