Smaller Charges. Lasting Effects.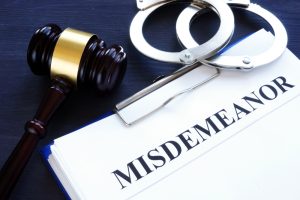 If you have been charged with a misdemeanor you may think that the worst is over. But this is rarely the case. It is true misdemeanors usually carry less jail time, but the charges can be just as serious. Many people make the mistake of not getting professional legal representation for misdemeanors.
Misdemeanors include:
Assault
Battery
Drug charges
Alcohol-related charges
Shoplifting or "retail fraud"
Traffic violations
Vandalism
Prostitution
Trespassing
Reckless driving
If you have been arrested for any of the above, including second-driving offenses, you may need an experienced defense attorney.
At BBA Law, we help you by first carefully reviewing your case. We then actively seek ways to get your case dismissed. For example, if any of your constitutional rights were violated, or if the police followed improper procedures, we may be able to reduce the charges or get the case dismissed.
The Truth About Trials
Trials take up time and resources; most local courts and state courts understand this. Sometimes by effectively telling your side of the story, and the reasons behind your behavior, the charges can be dropped or dismissed. At BBA Law, we first vigorously pursue a dismissal. If we believe you have a good chance at acquittal we will pursue a trial. If neither of these are options due to the nature of your case and the evidence against you then and only then will we discuss your plea options. We firmly believe that no one should go to jail for a harmless mistake and will fight aggressively to keep you out of jail.
Protect Yourself And Your Record
At BBA Law, we will take your case and aggressively fight to ensure that your rights are protected, that all legal protocol is followed and, depending on the facts of your case, fiercely pursue your options for dismissal, reduction or acquittal. Call us to discuss with a lawyer the details of your case and what we can do to help. Call 586-991-7611 or fill out this online contact form. Serving metro Detroit, Macomb County and southeast Michigan.