Michigan Felony Offenses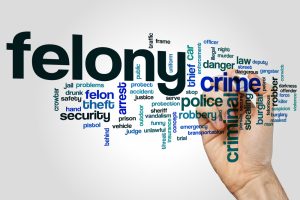 Depending on what you are charged with a felony in Michigan is punishable by as little as probation and as much as life in prison. The punishment is based on guidelines that are scored by the prosecutor and by the defense attorney. Courts routinely make mistakes when scoring these guidelines. If you are facing a felony conviction you need a knowledgeable defense attorney who can effectively navigate these guidelines and ensure that no mistakes are made. While most felonies carry a four-year sentence, there are other classes of felonies which result in five years to life in prison. A mistake by the prosecutor or the courts can mean the difference in years of jail time. Felonies are classified from Class A, which results in the most jail time, to Class H.
Michigan felonies can include:
Assault with a deadly weapon
Cocaine possession
Heroin possession, trafficking
Larceny
Home invasion
Criminal sexual conduct
Arson
Child pornography
Manslaughter
Robbery
Credit card fraud
Marijuana possession trafficking
Murder
Additionally, other drug and second drug offenses, domestic violence, controlled substance without a prescription and other firearm offenses, as well as some shoplifting and bad check writing, can be felonies.
We have successfully represented numerous assault and firearm and drug charges cases including heroin, cocaine, marijuana, medical marijuana and Ecstasy. Having worked for the prosecution we understand their tactics: They will attempt to charge you with a 20-year felony by proving or claiming that you were distributing. We understand that just because you have money on you does not mean you were distributing. We also know that there is a big difference between a one-year misdemeanor charge and a charge that brings a 20-year sentence. Our experienced and skilled lawyers know how the system works and how to make it work for you.
Dismissal, Acquittal, Reduction
The best first move is to seek to get cases dismissed in their earliest stages. In felony cases many factors come into play that can influence your sentencing, including what the court may enter in as evidence or proof and which charges are pursued.
We will assess your case and call upon any and all resources and legal protocol and precedence that may reduce your charges or sentencing. Every situation is unique. Each case is different. We understand this.
Domestic Violence Charges
Every story has two sides. When emotions run high, feelings become more intense, including anger and fear. A domestic violence assault charge can simply mean that one person was angry and another person was fearful. This charge does not mean there was actual physical violence. In some cases officers have misinterpreted a scene or the order of events, and these errors have shown up in their report and then in court. Domestic violence charges also do not always tell the whole story or allow the understanding of a person who was acting in self defense. At BBA Law, we ask the right questions to reveal the whole story and any reasonable doubt that it brings.
We will take your case and aggressively fight to ensure that your rights are protected, that all legal protocol is followed and, depending on the facts of your case, fiercely pursue your options for dismissal, reduction or acquittal. Call us at 586-991-7611 and speak to a qualified defense attorney or fill out this online contact form. Serving metro Detroit, Macomb County and SE Michigan.